Stop by on Sunday when our September giveaway happens! 



I am looking for co-hostees to spread My Favorite Posts SHOW OFF Weekend Blog Party on September 27th for four weeks.  Only $4.00 to be a part of it along with LOTS of exposure to your blog! 

I am also in need of guest bloggers, especially DADDY BLOGGERS.  Guest bloggers are featured every Tuesdays.  It's another way to promote your blog with The Wondering Brain! For more information, email m at The Wondering Brain at gmail dot com. 



Ready to party? We are! Before we begin, just some general guidelines to follow: 


Link up your favorite posts. It doesn't matter which one, just make sure it's family friendly! 
Follow all 3 of your hosts
Leave a comment if you'd like them to follow you too
Visit at least 5 other bloggers 
Show them your blogger love by leaving a comment  if you'd like them to follow 
Remember, it's not a party unless you mix and mingle, so mingle around and make some friends! 


Take our beautiful badge and proudly display it on your side bar to encourage others to party with us!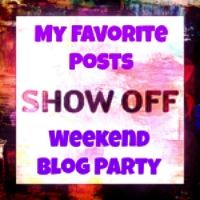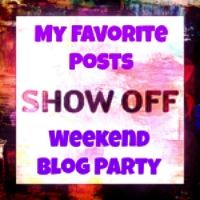 For Your Facebook Pages!
Use Facebook to Comment on this Post